Location, Location, Location: Where Should I Park My Food Truck?
There's a lot that goes into deciding where, and when, you should park your food truck. As much as we just want to drive it down the street and throw it in a park, there are some serious business decisions that go into finding the ideal parking spot.
Take the original NaanStop food truck for example. Neal and Samir Idnani first tested out their quick-service restaurant concept, NaanStop, by running a food truck in LA. As Samir explained, there were a lot of options available to them:
"So with the food truck, there were definitely a bunch of different ways to find your locations. There were locations where a lot of food trucks would go, like a food truck park almost what it is today. There are festivals, there are doing your own scouting, driving by and seeing a different location and then doing the research behind it, seeing how many people are walking in to, if it's—we found that there's an affinity between Trader Joe's customers and NaanStop or Whole Foods customers and NaanStop."

- Samir Idnani, Co-Owner of NaanStop
So while NaanStop found its parking spots near health food stores, your perfect parking spot might be different. But don't worry, we've laid out all the options here for you.
What Goes Into Choosing A Parking Spot?
LA's a big place, and where Neal and Samir parked their truck could make or break them. Why? Because foot traffic is important for any successful food truck.
So, to make sure every day was a successful one, they did their research. Samir explained that they did traffic counts of locations before moving the truck to a new spot—"how many people are coming by, how many people are walking versus driving. As a whole, you can get as surface level or as deep as you want on doing those analytics to find those locations."
For them, foot traffic was the most important consideration. But, it's not the only one.
Here are a few more:
Do you need special permits for that city or jurisdiction?
Whose land are you parking on? Do you need their permission?
How popular is that location for other food trucks? Do you need to go early to secure your spot?
If it's an event, who do you contact to register and get the right spot?
How many customers do you expect to get at this location?
We'll dive a bit deeper into these questions in the next few sections…
Neighborhoods & Side Streets
Some neighborhoods are super walkable and just perfect for a food truck to pull up and park in. The big part of picking out streets and neighborhoods to park in is just knowing your city. Where do people go for a walk outside? Where do people work, and need to grab lunch nearby?
In bigger cities, like New York, Miami, and Chicago, choosing which neighborhood to park in can mean a difference of thousands of dollars. CARTO did an analysis of food truck sales in New York City and found that trucks in the West Village made $5,234 in average revenue per week, while trucks in Queens made an average revenue of $6,128 per week.
But, that doesn't mean you can just leave your parking spot in the West Village and drive over to Queens. Cynthia Lubin, the owner of Earth N Zest, a smoothie truck in NYC, explained that you can't get a regular food truck license in New York anymore:
"So with New York, I don't know about like other states, but with New York, they're not giving out regular food truck licenses anymore. What they're doing is they're giving out, what's called a residential food truck license. So you actually have to, now, you actually have to ask permission to other locations in order to actually park your food truck there."

- Cynthia Lubin, Owner of Earth N Zest
Other cities have parking regulations you need to abide by too. In Chicago, food trucks can't park within 200 ft of a restaurant. So if you're trying to park in West Loop, that might be physically impossible.
Similarly, in Washington DC, food trucks can't park before 9:30 am. So, if there's a popular neighborhood or street you might have fierce competition in order to claim a parking spot. And even once you get a good parking spot, you can't stay there more than two hours without facing a hefty parking fine.
All this to say, finding the right street to park on may come down to counting foot traffic, like Neal and Samir did, and looking at your local bylaws and regulations. But, once you've found a good one, it'll pay off like gold.
Partnering With Private Businesses
When it comes to parking on a business's property, or in adjacent parking spaces, you first need to build a relationship with that business.
In most jurisdictions, you'll need the permission of the business to set up in their parking lot. In New York, you'll also need permission if you're parking in public parking spots adjacent to a business.
Hops Kitchen is a food truck company that partners with breweries to provide food to their customers. Since most breweries don't have their own kitchens, the partnership makes sense.
Michael works with the brewery owners to develop menus that fit their brewery, "It's a hybrid. We kind of create a counter inside the facility and take orders and we even do small items like pretzels and nachos out of there. Then our food truck is connected to the building and we pass food through the wall more or less. I like to call it a hybrid of a food truck and restaurant."
Because Hops Kitchen negotiates long-term contracts with the breweries, they can arrange marketing, special menu items, and hours for the food truck. That stability allows both companies to build a solid partnership.
Cynthia parks her food truck in front of a local gym, "When my local gym actually re-opened, I actually asked the owner if I could post there from Monday through Friday, and he agreed and this is exactly how—I'm posted there throughout the week." The set hours have allowed her to build up a loyal customer base that comes to her after every workout.
Types of businesses to partner with:
Breweries
Distilleries
Gyms
Small retailers
Hardware stores
Transport companies
Art galleries
Grocery stores
Bars & Nightclubs
Where's the real nightlife in your city? Is there a downtown neighborhood that lights up at night? Do the bars all let out into the streets late at night? Where's the spot to go on a Friday night?
That's where you'll find hungry, young adults out waiting for their Ubers.
Like parking on side streets, or near private businesses, you will need to account for bylaws before parking in front of the local watering hole. How close can you park to an establishment that serves food? What time do you have to pack up and leave? Is there anything you can or can't serve customers?
Check with your city to see what regulations exist, and ask them for introductions to the local bar owners. Chances are, they'll be happy to have you around.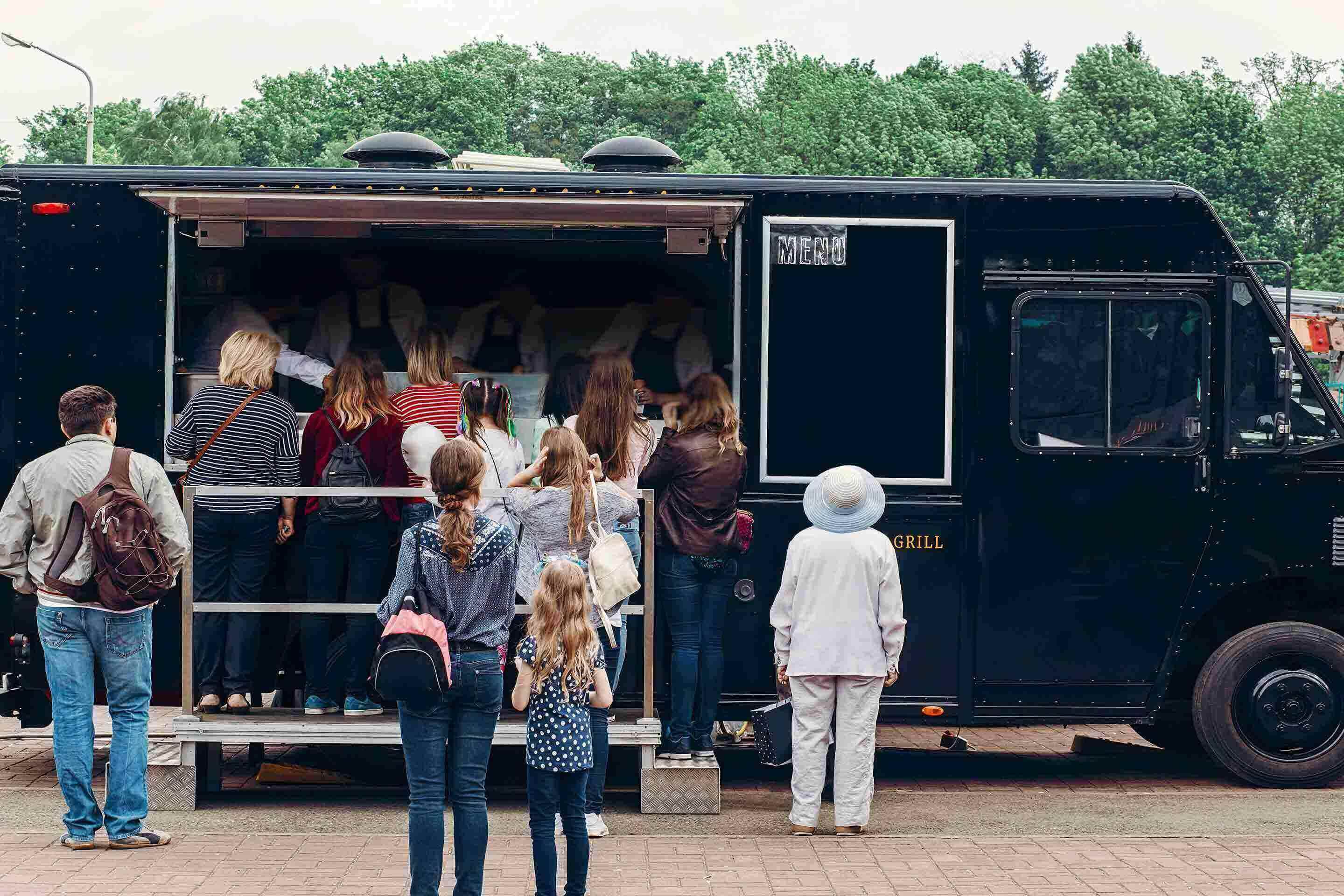 Festivals & Community Events
There's nothing like getting street tacos and watching fireworks. Or sharing a personal-sized wood-fired pizza with a friend while watching your favorite band in a mud-covered field. Or eating mini donuts and sipping hot coffee while looking at Christmas lights.
The best pairing for any local event is good food. And let's face it, no one does better street food than you do.
So how do you get involved? How do you make sure it's your food truck parked in the local park on July 4th? Or it's your coffee cart set up for the Christmas lights walk? By reaching out to the organizers well in advance.
Depending on the type of event, there may be different rules and requirements for you to meet.
Many events have a set limit on the number of food trucks they can accommodate, and what kinds of food they want to be served.
Michael Pustai, the owner of Hops Kitchen, explained that he actually operates his food truck under a couple of different brands to ensure he can accommodate the needs of event organizers:
"When we apply for big festivals like Bonnaroo—I don't do any out of the West Coast, but East Coast, like Bonnaroo or some country, big festivals. I gave 'em a Smorgasbord board of all the brands I can do. And that gets me in the door because they might already have a pizza guy, but they don't have an Empanada guy, and that's another one of my brands."

- Michaele Pustai, owner of Hops Kitchen
You don't have to go to that extreme to get into a good festival, but you should keep in mind what it is they are looking for. Also, always keep in mind the type of person attending the event, are they similar to your ideal customer?
Food Truck Festivals
Food Truck festivals are when a group of food trucks parks together in order to attract large groups of people. They can be a one-off event, or occur on a consistent day and time.
If you get an invite to one of these events, it might be worth serious consideration. But, make sure there are no other menus that are a bit too close to yours. If you're an ice cream truck, don't go to a gathering of ice cream trucks. Find ones that serve salads, burgers, or pizzas and position yourself as the dessert offering.
Farmers Markets
Farmers markets are their own beast in and of themselves. What makes them different from other community events is that they are ongoing, often happening on a weekly basis throughout the summer or the whole year.
Usually, farmers markets have a couple of food trucks on-site in addition to the local artisans, veggie stands, butchers, etc. Sometimes the food trucks rotate, with a different set of trucks every week, and sometimes they remain consistent. It depends on the needs of the market.
To get in with your local farmers market, you need to apply as soon as their application comes out for the year. Lily Nichol, the Assistant Market Manager with New West Farmers Market, explained that it's really important to fill out the application quickly because they are looking for unique options that don't compete with food trucks already at the market:
"They need to apply as soon as they can when the application comes out. Particularly if they serve burgers or things that are more common food truck fare. When we pick food trucks we're looking for unique options so that we don't have trucks that directly compete with one another at the same time and also provide diverse flavors and menus to customers to keep them coming back to try new things."

- Lily Nichol, Assistant Market Manager with New West Farmers Market
The end goal of a farmers market organizer is to have customers coming back so that all the vendors benefit. Having a healthy selection of food trucks keeps a variety of customers happy, and keeps them coming back.
In order to find out when applications come out for the year, Lily suggests following the farmers markets newsletters and social media channels. Or, ask organizers to notify you directly when it comes out for the following year.
"We have lots of people who come to us a month or several months later and are surprised that the application has been out for a while. But we send it out in lots of different ways and try so hard to make sure that people know."

- Lily Nichol, Assistant Market Manager with New West Farmers Market
Sporting Events
While parking outside the Super Bowl might seem like a no-brainer, it's not the only sporting event you should consider parking by. Often, smaller, amateur tournaments and events have a captive audience that can't leave the grounds to go get food.
Ask around for regattas, horse shows, swim or track meets, or baseball tournaments that would like to have your food truck on site. If the event is hosted by a sporting association or a children's league, they may need to approve your menu ahead of time to ensure proper nutrition for the athletes.
Weddings, Parties & Private Events
Private parties and events are great because they give you a guaranteed income for the period you are parked at the event. Depending on the event, you can usually negotiate a flat rate that covers your time and ingredients. Because you're charging the host directly, you also aren't spending time collecting payment for each individual order.
Luma Coffee operates a coffee cart that can be transported around for public and private events. While they mostly do farmers' markets, they have been asked to offer coffee at weddings in the past.
Their co-owner, Logan Torrance, told the #LocalBites podcast, "We don't advertise it very much. Kind of organically, people have asked "Hey we'd love to have you at our wedding." So we have done events within the past two or three months."
No Matter Where You End Up Parked…
If you follow a consistent method for picking a parking spot, you'll narrow it down to the winners. Every time you move your truck, note how you did in that spot. Were sales good? Bad? Ugly?
This information will help you always park in the perfect spot.