4 Great Examples of Independent Pizzeria Apps & Why They Work
Pizza chains have always led the way when it comes to restaurant technology and innovation. But, it's not only the big chains that are doing amazing things. Independent pizzerias around the world are taking those innovations and applying them to their own restaurants.
We went through the best pizzeria apps that aren't Domino's, and talk about why they work for these brands.
📍Vancouver, British Columbia
AJ's brings #ASliceOfBrooklyn to Vancouver, one pizza at a time. They serve Detroit and New York-style pizzas for dine-in, take-out, and delivery.
Why It Works
AJ's app shows off its varied menu and gives you lots of opportunities to customize your order. Between their build-your-own menu option, and the add-ons available for their pizzas, you can customize your order any way you would like.
The Build Your Own pizza option allows the customer to select from any of the toppings they have available, and it even shows toppings that aren't included, but can be added for an extra charge.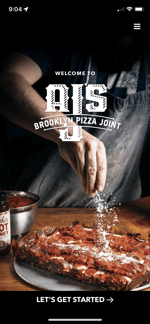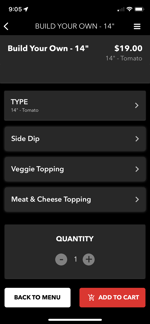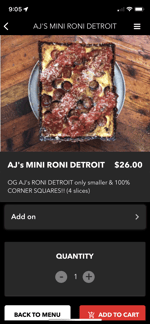 📍New York, New York
The Marshal is all about bringing sustainability to the pizza industry. Even though they are located in Hell's Kitchen, in NYC, they only use wood from local orchards in their ovens and source only local ingredients.
Why It Works
The Marshal's app works because it allows you to make your pizza your own. Browse through their menu, where they tell you in detail where each ingredient comes from, and customize your order any way you like. They offer any add-on with any pizza, and the list is easy and clear to browse through.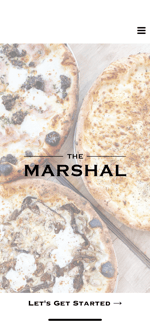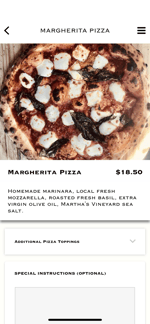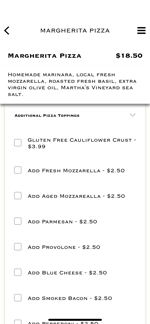 📍Mt. Clemens, Michigan
Square One Pizzeria delivers pizzas, subs, wings, and salads in Mt. Clemens, Michigan.
Why It Works
Square One's app shows off its entire menu and makes it easy to order. The app saves your order history to your account and allows you to quickly re-order your favourites with your preferred customizations.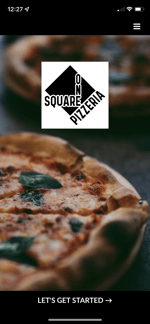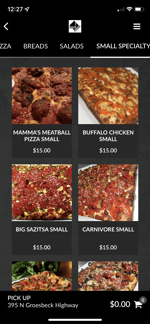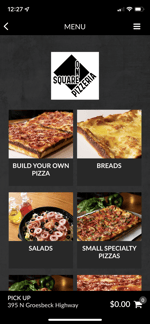 📍Kailua-Kona, Hawaii
Kona Crust brings high-quality pizza to the big island. Their pizzas are made with fresh ingredients brought in from the Mainland.
Why It Works
Kona Crust's branding is on point and consistent throughout their website, online ordering and app. They are clear about how you earn and redeem loyalty points, and have made the ordering process very simple. Their app stays true to their brand, and each feature is designed to cater to their customer's needs, which is why it has been so successful.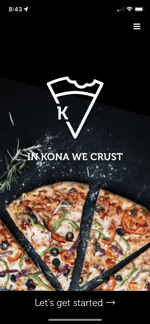 .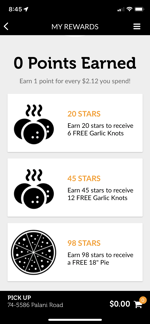 What features would work best for your pizzeria? No two pizza places are the same, and when designing an app you need to consider your customer base and your brand. If you're looking for more information on mobile apps for your slice shop, feel free to reach out to our team.