Best Examples of Coffee Shop Rewards Programs & Why They Work
Rewards programs are more than just a perk; they're a pivotal strategy for coffee shops to increase revenue and retention. A staggering 79% of consumers report a stronger loyalty to brands that offer rewards programs. Not only do they bring more people through the door, but they enhance the overall value of each guest over time. Plus, a rewards program is a great way to make your coffee shop stand out in a crowded market.
To get you started or help improve your existing program, here's a look at some of the all-time best coffee shop rewards programs.
1. Starbucks
Starbucks Rewards is one of the most successful coffee shop rewards programs ever. Bringing in 40% of their total sales, the coffee shop chain's rewards program has over 24.2 million members in the US alone.
How it Works
It's all about earning stars—spend a dollar, earn two stars. Once members hit 125 stars, they get a free drink or food.
Their rewards program has three tiers:
Welcome level (0-59 stars): Members get a free birthday drink, just for signing up.
Green level (60-299 stars): For just 60 stars, members get a free drink, drink size upgrade, or slice of cake with their coffee during their birthday month.
Gold level (300+ stars): Gold members get everything the other levels get, plus a special gold card, personalized offers, and a free drink for every 15 stars. If they earn 30 more stars after reaching 300, they can keep their Gold status for another year.
All members can enjoy "double star days", play exclusive games, and get special offers from time to time. Starbucks also has a prepaid Visa card that will help members rack up stars faster when shopping at Starbucks or other retailers.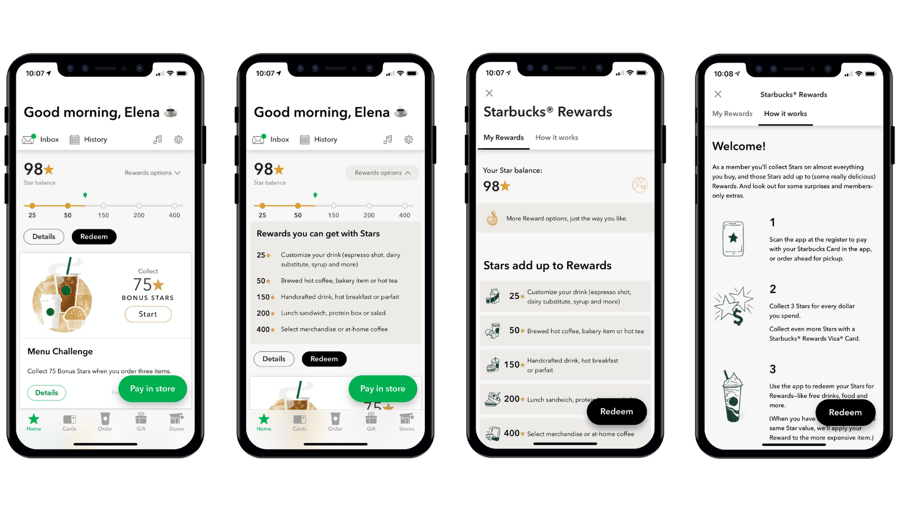 Why it Works
2. Dunkin'
With over 2 million members, Dunkin's rewards program is up there with the best. In 2022, the new and improved Dunkin' Rewards replaced the original DD Perks. Driven and designed around member feedback, the revamped rewards program introduced more food and beverage rewards, increased points flexibility, and an all-new Boosted Status—a special loyalty tier for Dunkin's most dedicated fans.
How it Works
Their rewards program's winning recipe has three main parts:
Earn Points: Dunkin' Rewards members earn 10 points per $1 spent at Dunkin', which can be redeemed for free beverages and other items. Rewards start at 150 points ($15 spent), earning members a free espresso shot, three Doughnut Hole Treats, or six hash browns. Plus, when members visit 12 times in a month, they unlock Boosted Status—that means 20% more points (12 points per $1 spent) for a full 3 months.
Exclusive Rewards: Dunkin' goes way beyond their standard points system. They offer lots of chances to rack up extra points and get cool rewards like extra points for special occasions, big seasonal discounts, unique codes, contests with cash prizes, and more. They know how to keep their guests coming back.
Fuel Rewards: The "Sip Dunkin', Save at Shell" partnership allows Fuel Rewards members and Dunkin' Rewards members to save 10 cents per gallon every time they purchase five beverages at a Dunkin' location.


Why it Works
3. Panera Bread
Launched in 2022, Panera Bread's rewards program, known as MyPanera, began as one of the earliest rewards programs. Today, it's one of the largest loyalty programs in its industry, with nearly 48 million members. Unlike traditional points-based systems, MyPanera dishes out unexpected rewards, making the program feel more spontaneous and less transactional. And it works: in the first quarter of 2022, more than half of all Panera sales came from rewards members. MyPanera members also tend to visit more frequently and spend more per visit than non-members.
How it Works
Earning Rewards: Instead of the traditional "points per dollar spent" model, rewards are based on the frequency of visits and the types of purchases made. Each time a member makes a purchase and scans their MyPanera card or app, it counts towards earning potential rewards.
Personalized Rewards: The rewards offered are personalized based on each member's purchase history. This means members receive different rewards based on their unique preferences and previous purchases. Since September 2022, Panera's new choice-based rewards allow members to select from several options based on their personal preferences, instead of a single pre-determined reward.
Types of Rewards: Designed to surprise and delight members, rewards are unpredictable and unexpected. Rewards vary widely, from free bakery items to discounts on purchases, complimentary upgrades (like a free coffee or bagel), or a free meal after a certain number of visits.
Member Exclusives: MyPanera members may receive exclusive offers, invitations to special events, or sneak peeks at new menu items. Sometimes, MyPanera offers challenges (like visiting a certain number of times in a month) that can lead to additional rewards.
Panera's Unlimited Sip Club: Panera was the first place to offer an unlimited self-serve beverage subscription. MyPanera members can sign up for a monthly or yearly Unlimited Sip Club plan. Members can order a free self-serve beverage (hot drip coffee, iced coffee, hot tea, soda, and more) every two hours, plus get unlimited refills, all for $11.99 a month. And it's not just standard brews—skim milk, almond milk, half and half, and sweeteners are all included too. It pays off because members impulse buy tons of extra food, you know, "since they're there already."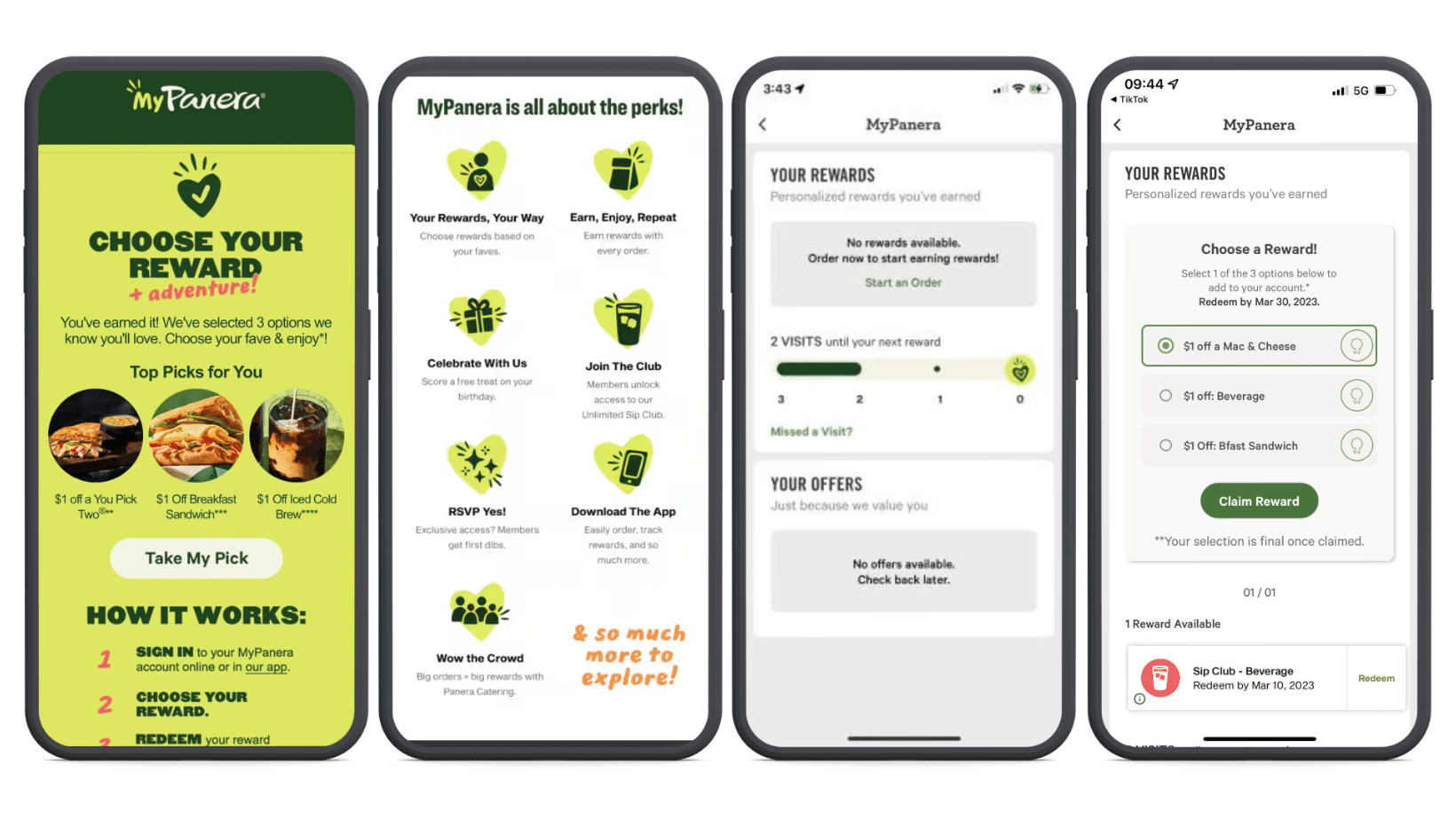 Why it Works
4. Caribou Coffee
Caribou Coffee's award-winning rewards program, Caribou Perks, is recognized for its unique approach to enhancing the guest experience. With over two million active users, it's designed to reward and engage frequent visitors, offering a variety of benefits that make every purchase more than just a transaction.
How it Works
Earn Points: Guests earn points by buying food and drinks in their stores, but also by shopping online for swag like clothes, gift sets, or mugs. Ordering ahead using the Caribou Coffee app or scanning and paying in-store with funds from their app account, will earn users two points for every dollar spent. Cash or credit/debit card payments will earn 1 point per dollar, edging them closer and closer to their next rewards milestone.
Quick Rewards: What's cool is how quickly the rewards start flooding in. New rewards members get a free medium drink just for signing up! After that, they're just 25 points (that's like spending $12.50) away from their next freebie—an upgrade to a bigger size coffee or an extra espresso shot for no extra cost. 50 points means a free coffee of any size, even an XL. For 150 points, members can pick any drink they want for free. Most other rewards programs require members to spend a lot more to get the same perks.
Extra Perks: Caribou Coffee's rewards program offers loads of extra perks too. Members get 5% off coffee beans and K-Cup pods, plus exclusive deals like a free non-dairy milk upgrade when they order ahead on the app. Also, perks members get special access to cool promotions and are the first to know the latest news from Caribou Coffee.
Reward Sharing: Caribou Perks has a unique reward-sharing feature. Members with extra rewards can choose to brighten someone's day using the Share-a-Perk option. By accessing the Caribou Coffee app, users can easily transfer rewards to a friend, who can then redeem them for various perks like larger drink sizes or free bakery items. This feature not only delights recipients but it's an effective strategy for attracting new app users.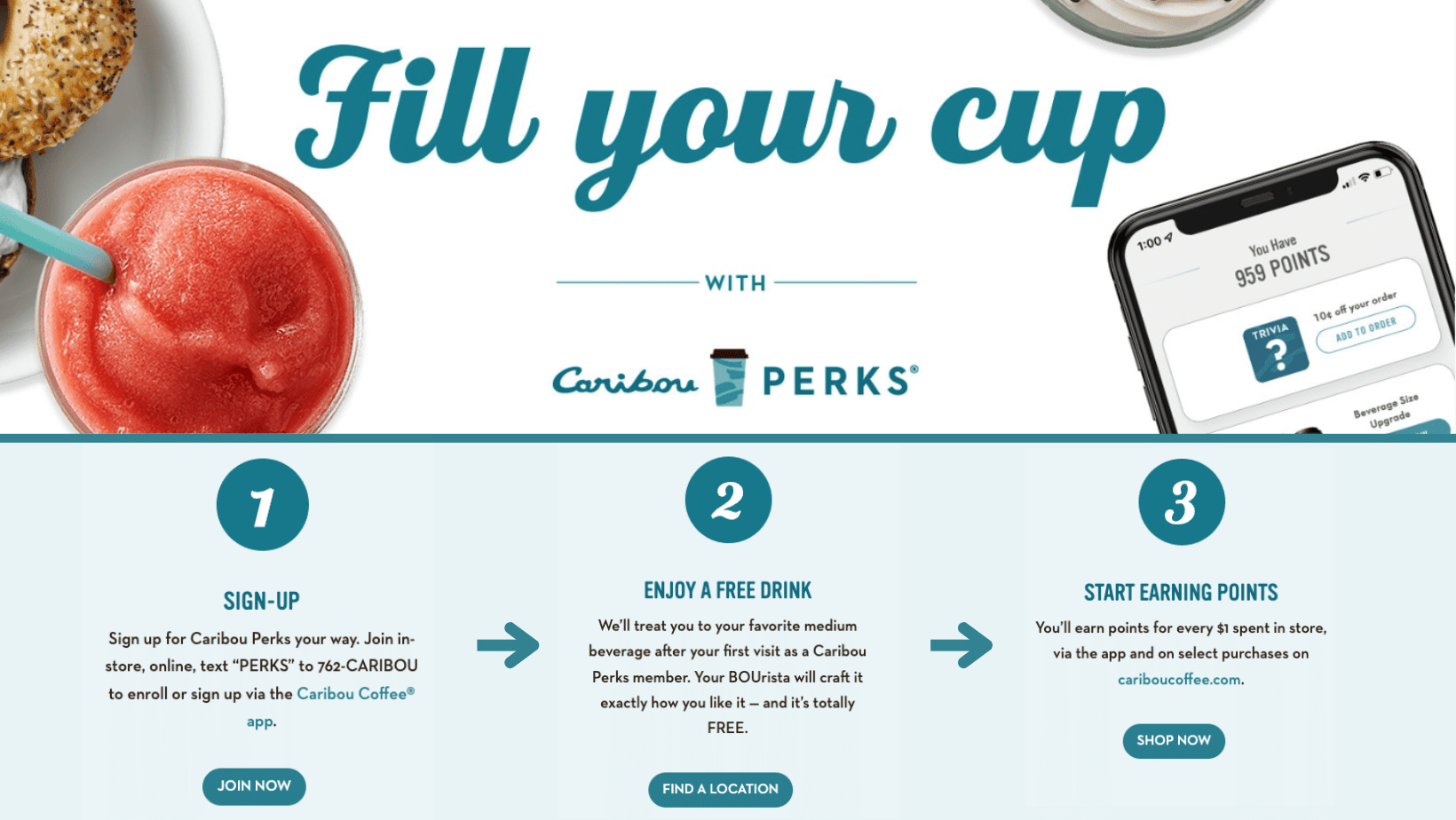 Why it Works
Wrap Up
Like Starbucks or Dunkin', your coffee shop can have its own rewards program too. Craver's custom-branded mobile apps include a built-in rewards platform that's perfect for treating your loyal guests. With rewards points, time-sensitive coupons, and exclusive discounts, you'll see your guests returning time and time again. Plus, Craver's push notifications feature allows you to ping offers directly to their lock screens, nudging them to reorder.
Curious about how a custom-branded app and rewards program could transform your coffee shop? Schedule a demo with Craver today and see the Craver platform in action.