Get A Mobile Ordering App for Your Restaurant
Want someone to walk you through everything Craver can offer to your restaurant? Pick a time to talk to an expert and learn how an app can impact your business.
Increase Your Revenue With: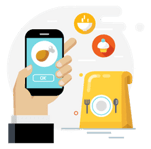 Get a mobile ordering app that represents your business. Your logos, your colours, your voice, and your menu.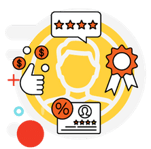 Build your loyal customer base by offering a rewards program. Customers earn points on orders placed online, through your app and in-store.
How are your customers ordering from you? How often, and how much do they spend? Customer insights enable you to grow your restaurant, and increase revenue.
Craver makes it affordable for restaurants to have a fully customized mobile app for their brand. We help restaurants increase their revenue by improving their brand image and creating customer engagement. We make the ordering process easier for your customers, speed up the process of order pickup/delivery and reduce the workload of your staff. You'll save time and money and keep your customers happy and loyal.