Star Micronics and Craver to Provide Custom Mobile Solutions for Restaurants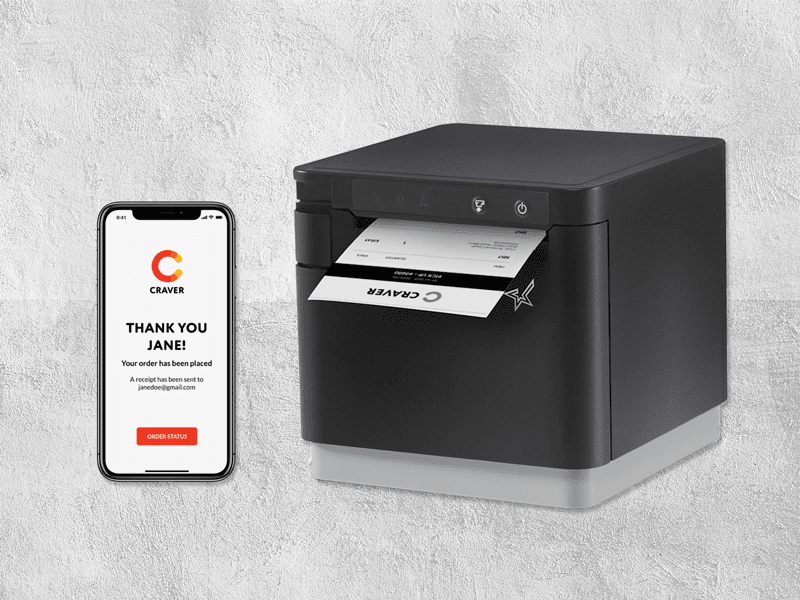 Somerset, NJ – June 20, 2019 – Star Micronics, a leading manufacturer of mobile, point of sale (POS), and customer engagement technologies, is proud to announce that Craver will be supporting Star's new mC-Print3 with CloudPRNT technology. Craver, along with Star's mC-Print3 with CloudPRNT will enable restaurants to easily accept and print mobile orders through iOS or Android devices.
Craver provides customized apps on a monthly subscription basis for restaurants. They create custom apps to fit the needs of their customers' business with POS systems and payment integration. The app also includes an integrated loyalty and rewards program that makes it easy for customers to collect and redeem rewards. Craver helps restaurants increase profits by not only enabling mobile ordering but by also sending customers push notifications to notify them of customized deals and promotions, encouraging them to place more orders.
Star Micronics new mC-Print3 is sleek, compact, and connected with CloudPRNT support and Hub functionality to power up to 3 peripherals using USB connectivity. The CloudPRNT technology enables users to print orders to Star printers directly through a cloud service. CloudPRNT will work with Craver to store and create print jobs and communicate status with the mC-Print3. This eliminates the need for an extra tablet in the restaurant to send an online order to the printer.
"Star Micronics CloudPRNT technology enables Craver customers to receive their mobile and web orders directly on their Star printers without any additional hardware, increasing the restaurant's efficiency" Said Amin Yazdani, CEO of Craver Solutions Inc. "Together, Star Micronics and Craver make the mobile-order processing easy for restaurants"
About Star Micronics
Star Micronics, one of the world's largest POS providers, has designated a portfolio of printing, secure cash management, and customer engagement solutions for any retail or hospitality establishment in POS and mPOS environments. Embracing the mobility wave, Star's complementary SDKs allow users to utilize Star printers in tandem with Android™, and iOS iPad® and iPhone® devices to generate receipts for all of its printers. Always leading, and always innovating, Star Micronics enables web-based printing solutions including remote cloud printing, wireless cash drawer solutions, proximity-based printing, and secure cash management. For more information, visit http://www.starmicronics.com or follow us on Facebook, Twitter, YouTube, or LinkedIn.
About Craver
Craver is a flexible and customizable mobile app platform for restaurants and other foodservice businesses. With its easy-to-use and extensible platform, restaurants can have their fully branded mobile app built for their customers. Craver provides features such as mobile ordering, order ahead and skip the line, rewards and loyalty, push notifications and much more that help restaurants engage their customers better and more effectively and as a result increase their revenue. With flat-rate monthly subscriptions and no additional transaction or maintenance fees, Craver apps are affordable and accessible for restaurants of any size.
Published on 10 July, 2019
Written by Shabnam Ahmadi